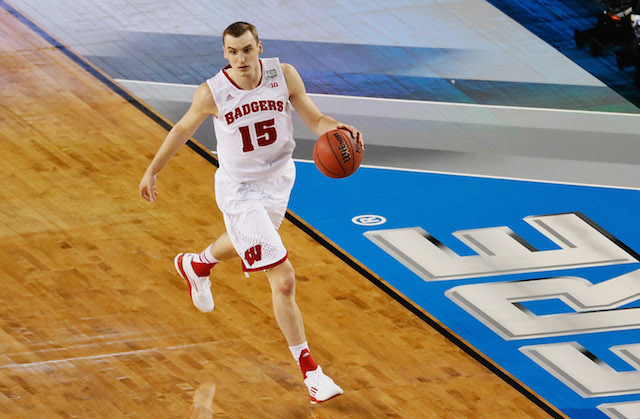 Sam Dekker is a Key Factor for the Badgers/usatsi.com
by John Fanta
@John_Fanta
It was an especially bitter cold December night in Madison when Duke went into the Kohl Center and commanded Wisconsin, 80-70, in the Big Ten – ACC Challenge.
When the two meet at Lucas Oil Stadium on Monday night, they won't be playing for an essentially meaningless inter-conference battle. Rather, the Blue Devils and Badgers will be battling for the national championship.
Bo Ryan, who will be making his first appearance in the finals ever and has led the Big Ten champions to the title game after the Badgers pulled off a 71-64 upset victory over thr previously undefeated Kentucky Wildcats.
As for the Blue Devils, it's practically been the Duke Invitational on their side of the bracket. Coach Mike Krzyzewski's team has been powered by potential first round draft pick Jahlil Okafor.
What are the keys to this match-up?
Sam Dekker
The Badgers need the 6-foot-9 junior to spread the floor. Wisconsin's offense is so effective because this team does not only have bigs, but bigs that can score from anywhere on the floor. That can open things up and then force Duke into some issues defensively. With how little depth the Blue Devils actually have, getting to the rim and forcing Okafor as well as Amile Jefferson to guard the tin could play out to be very intriguing. Frank Kaminsky isn't a key because we know that the All-American is going to make an impact. Back when the two teams met the first time, "Frank the Tank" scored 17 along with nine boards. Dekker only had five points that night. The Badgers will need him to be much better than that. He has scored multiple three-pointers in four out of five NCAA Tournament games. If he can give the Big Ten champs that kind of night combined with his defensive play, Duke could get frazzled.
Duke's Defense
While the Blue Devils contained the guard play of Michigan State, it's safe to say that facing Wisconsin offers a completely different level of difficulty. The Blue Devils should have the mindset that if Bronson Koenig and Josh Gasser are beating them, then maybe it really is meant to be for the Badgers. Wisconsin's bench combined for 29 minutes as a whole in Saturday's win over Kentucky. Their reserves aren't going to put away Duke. It really comes down to keeping Kaminsky and Dekker from getting anybody else involved in the offensive approach of Wisconsin. Quinn Cook and Tyus Jones could really have a field day on Monday night. Gasser and Koenig will have enough work on defense that their abilities to score will take a drop as is just because of the test they're facing on the other end. As for Hayes vs. Justise Winslow, that's a fantastic match-up. Hayes scored 12 on Saturday, while Winslow continued to play like a star, pouring in 19. The two add so much to their respective teams because of their length and ability to score from anywhere. What a battle at the 3-spot.
Who's Attacking the Rim?
In Duke's four losses, the Blue Devils shot 23-of-81 (28 percent) from three-point range. In Wisconsin's three defeats, the Badgers went 20-of-64 (31 percent). If this match-up gets into a three-point contest, advantage Wisconsin. Duke has the most physically capable player on the floor in Okafor. Not giving him as many touches as possible would be foolish. A key in itself is whether Wisconsin can guard the entry passes, which is just one of the many little things that this game will come down to, but making it a three-point contest is not what Duke especially should do.
Final Thought
We won't be seeing UK go for the unbeaten season Monday, but that takes nothing away from this game. Krzyzewski vs. Ryan offers a curious coaching match-up. For Coach K, a fifth championship would put his already historic legacy to another level. For Ryan, a first title would offers as good as a "feel-good" story gets. On top of that, quite arguably the two best players in the country face off. Kaminsky and Okafor have combined to create so many memories in this 2015 campaign. And they're not done yet.
9:18. CBS. It's so much more than a game. There's nothing better than the pageantry of March Madness
.
Follow us on twitter @John_Fanta and @NCAAHoopsDigest during the game for updates.