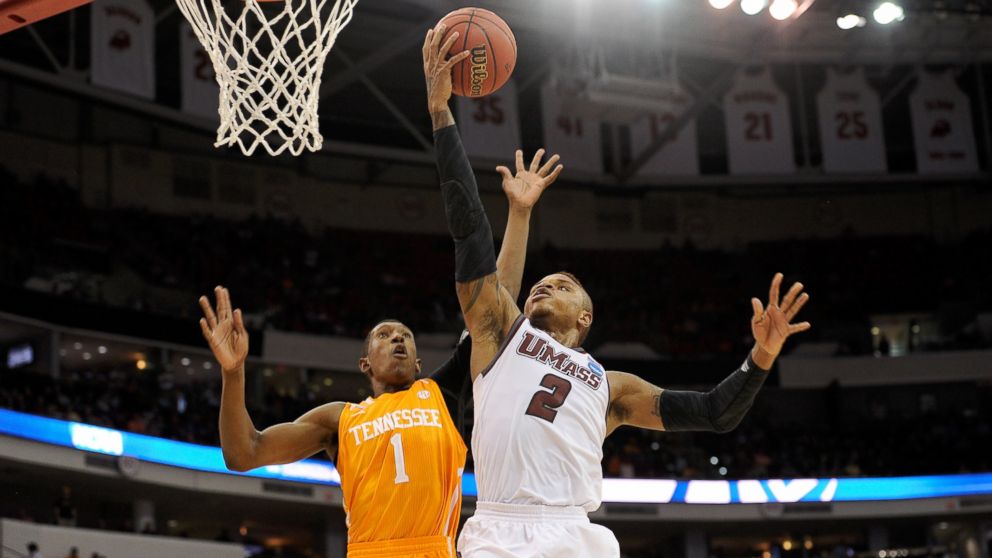 Derrick Gordon is Leaving UMass for Seton Hall/gettyimages.com
by John Fanta
@John_Fanta
The 2015-16 Seton Hall men's basketball roster has been finalized.
The program officially announced on Thursday afternoon that transfers Derrick Gordon, Braeden Anderson, and Jevon Thomas have been added to complete the team's roster. Along with the news of the additions, Chier Ajou has transferred from the school, which opened up the scholarship for the Pirates to attain Gordon.
"We are excited to welcome Braeden, Derrick and Jevon to the Seton Hall Basketball family," said head coach Kevin Willard, who will enter his sixth season at the helm. "We have identified three talented individuals who each bring different skill sets and a wealth of experience to our team, and I couldn't be more thrilled that they have chosen to continue their educations and basketball careers at Seton Hall."
Gordon and Anderson will both be eligible immediately while Thomas will sit out for the 2015-16 season due to transfer regulations.
Gordon, who comes in from UMass, is a 1,000-point scorer over his three-year career with Western Kentucky and the Minutemen. The 6-foot-3, 205-point shooting guard will give the Pirates an added defensive boost and complementary scoring. The Plainfield, N.J. native has been a part of two NCAA Tournament teams in his career. With the Hilltoppers in 2011-12, Gordon contributed 11.8 points and 6.7 rebounds per contest, landing a spot on the All-Sun Belt Third Team and charging his team to a conference tournament title. After transferring to Massachusetts and sitting out a year, Gordon helped get the Minutemen to the 2014 NCAA Tournament, averaging 9.4 points, 3.5 rebounds, 2.0 assists and 1.5 steals per game. In 2014-15, Gordon was tallying a mark of 9.8 points, 4.9 rebounds, 2.7 assists and 1.5 steals per game.
Gordon will enter graduate school at Seton Hall after coming away from UMass with a Bachelor of Arts in Sociology.
"Derrick is already an accomplished college basketball player, a winner and a leader," said Willard. "He will be a hard-nosed, lock-down defender for us and someone who attacks the rim on offense. We're excited he's come home to New Jersey as he pursues both a Master's degree in the classroom and excellence on the basketball court."
Anderson asked for his release from Fresno State in February during this past season because he wanted to focus on getting into a law school. Coming from Okotoks, Alberta in Canada will also attend the law school at Seton Hall University, ESPN's Jeff Goodman reported along with breaking the news of his transfer.
In his redshirt sophomore campaign, the 6-foot-9 Anderson averaged one point and 1.8 rebounds per game. It was Anderson's first season after a car accident before the 2013-14 campaign forced him to miss the entire year due to a displacement of his C-5 through C-6 vertebrae.
Anderson has already earned his Bachelor of Science degree in Criminology – Forensic Behavioral Sciences from Fresno State.
"Braeden is one of the most determined young men I've ever had the pleasure of meeting," Willard said. "He has a clear goal of succeeding both in law school and in basketball, and we're excited that he's chosen Seton Hall to pursue both of his dreams. He is a strong defender and rebounder and is going to be a major asset for the team on the court."
Thomas, a 6-foot, 185-pound point guard, appeared in 52 contests at Kansas State, tallying a mark of 3.7 points and 3.0 assists per game. Thomas will provide The Hall with a presence in practice in the upcoming year, as the orchestrator compiled a team-best 52 assists in Big 12 play in his sophomore campaign.
A Queens, N.Y.
native, Thomas is in the middle of pursuing his bachelor's degree.
"Jevon is a gifted athlete and a very intelligent young man," Willard said. "He has tremendous vision on the court, which helps make him a great passer and playmaker. He will make our team better in practice this upcoming season and will be an important player for us in 2016."
The three transfers join incoming freshmen Dalton Soffer, Amaveer Singh, and Myles Carter.
The six commits will look to help a rising sophomore class try to bounce back from a 16-15 2014-15 season.